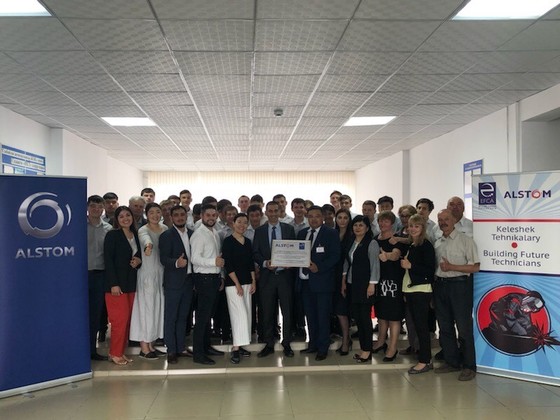 Alstom Foundation supports Agrotechnical College in Atbasar, Kazakhstan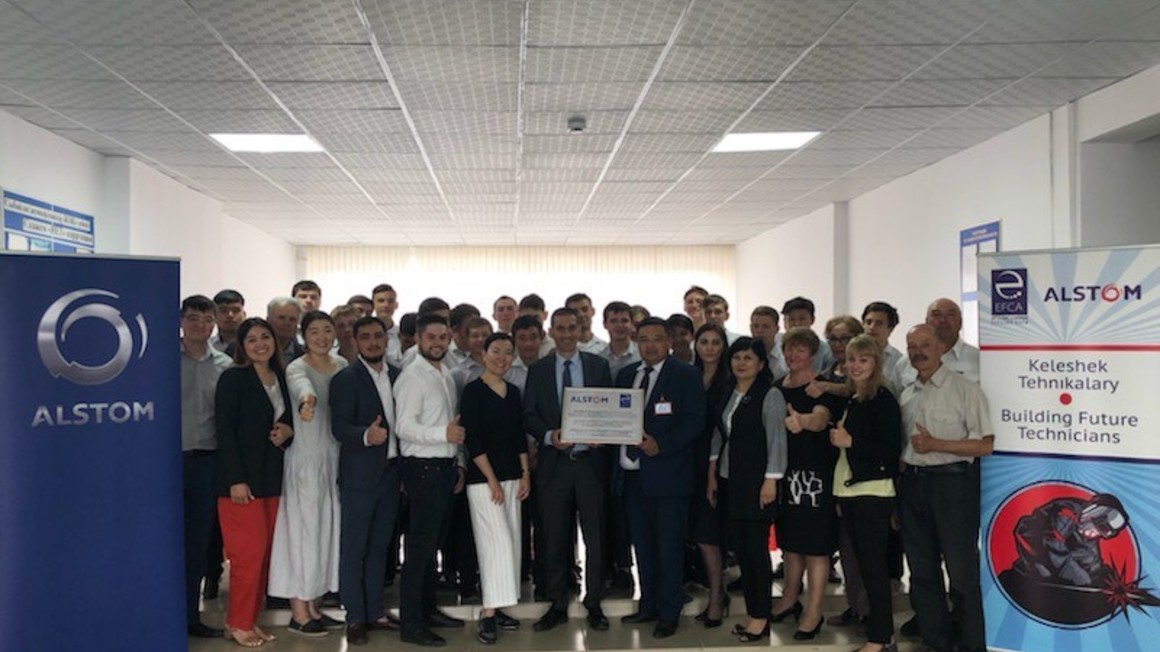 14 June 2019 – The Alstom Foundation in partnership with the Eurasia Foundation of Central Asia (EFCA) opened a laboratory with modern welding equipment in Atbasar Agrotechnical College for students of the Electric and Gas Welding school. This laboratory is part of the "Building Future Technicians" project.
Alstom and EFCA have come together to help improve career opportunities for students in the Agrotechnical College in Atbasar. Alstom Foundation finances upgrading training equipment and updating program curriculum. The project funds are used to supply latest equipment so that students, when they leave the school, are better prepared to meet the requirements of the industry.
"Establishing a partnership with Atbasar Agrotechnical College will help the machinery building industry of Kazakhstan, as we are developing students' essential and professional skills. We also would like to promote remote regions, which are quite far from big cities and thanks to this project which highlights economic, social development and support we are very happy to contribute to the country's competencies growth", said Guillaume Tritter, Alstom Managing Director for Kazakhstan.
"The Alstom Foundation is delighted with the achievement of this key milestone in its first project in Kazakhstan, which will serve to develop the skills and employability of local young people long into the future", said Barry Howe, Secretary General at Alstom Foundation.
During the project, Alstom employees organize tours to the Electric locomotives assembling plant (EKZ) in Nur-Sultan for teachers and students of the Atbasar College to give them insights and share knowledge on latest industry trends. The EFCA has already organized a 2-week long qualification strengthening classes for teachers, conducted by Kazakhstan Welding Association in accordance with international standards, then teachers will conduct training sessions for teachers from other vocational technical schools to ensure knowledge transfer.
Atbasar is a town in Aqmola region with more than 30,000 people and located 265 km from Nur-Sultan, capital of the Republic of Kazakhstan. Atbasar is a large station with connections to the major cities of Kazakhstan, Moscow and St. Petersburg in Russian and Kiev in Ukraine.
Alstom is present in Kazakhstan with more than 650 people, two joint ventures and two facilities, EKZ in Nur-Sultan for locomotives manufacturing and maintenance and on-board transformers, and KEP in Almaty for the production of point machines. Alstom is the only manufacturer of electric locomotives and point machines in the Central Asian and Caucasian region and a major contributor to the revitalisation of its rail industry and the development of its economy.