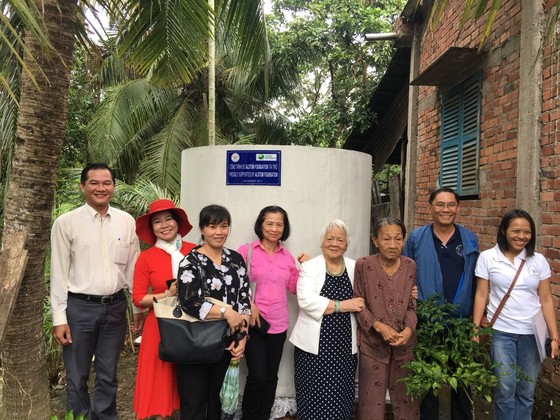 Vietnam: Reducing water scarcity
May 2018 marked the completion of CNCF's 7-month long rainwater harvesting tanks installation project in Vietnam, supported by grants from the Alstom Foundation.
In the remote regions of Phong Nam, tap-water is a luxury. For thousands of years, people of Phong Nam have relied on the local river or rain to meet their daily water requirements. However, increased agricultural and industrial activity in the Mekong Delta region have left the river water contaminated and unfit for use. Although in theory Phong Nam's tropical climate ensures that it gets enough rainfall during the summer months, during the dry season many in this corner of Vietnam struggle to find water for consumption.
In 2016, Vietnam suffered from the worst drought in over 9 decades. Water scarcity was exacerbated by climatic phenomena such as El Nino, which has made rainfall pattern increasingly unpredictable in recent years. Small farmers who grow watermelons and orange trees about 40 miles from the South China Sea, have seen crop-ruining salinity intrude farther inland than ever before.
To help alleviate water poverty in the region, the Alstom Foundation collaborated with Christina Noble Children's Foundation and local partner DOLISA of Ben Tre province, to install 41 rainwater harvesting tanks for the poorest households in Phong Nam. The total capacity of each tank is 3.00 cubic meters and water is collected from rooftops via rain gutters. The project was successfully completed within the stipulated time frame and all tanks were installed before the start of the rainy season.
"CNCF would like to express its sincere thanks to Alstom Foundation for the generous donation; without which 41 families in Phong Nam Commune would have been compelled to use unclean water and be exposed to water borne diseases. CNCF greatly appreciates Alstom Foundation's kind donation, which has helped approximately more than 123 people in the Phong Nam Commune."  
The water tanks have resulted in several tangible benefits to the beneficiaries. By eliminating the need to buy potable water, they have allowed for increased expenditure on other necessities such as food and education. The tanks are also expected to contribute positively to the health of the beneficiary children by reducing instances of water borne diseases.
We believe that access to clean water will promote hygiene and stimulate healthy behavioral changes the in the Phong Nam commune.