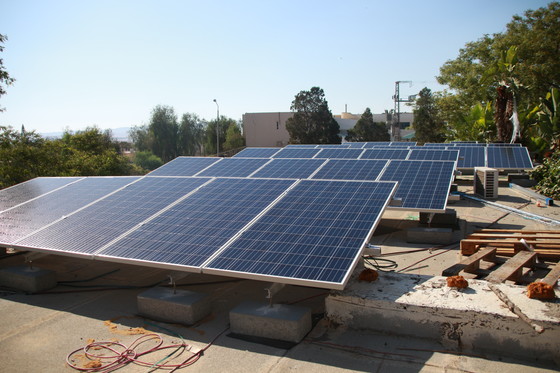 Israel: Helping Neradim Children's Village go green
As part of its commitment to protecting the environment, the Alstom Foundation funded the installation of a photovoltaic rooftop system on Neradim Children's Village's buildings, home to at-risk children, orphans and children whose families are unable to take care of them. 
Neradim Children's Village, run by SOS Israel, was established in 1981 and provides shelter to 80 children. SOS Israel is the Israeli arm of SOS Children's Villages International, a not-for-profit organization established at the end of World War II. Since its inception, the organization has advocated for alternative child-care models that aim to provide orphan children with a family-like home so that they may grow up with dedicated role models in an environmental that is both nurturing and empowering. This "village model" has been adopted in 134 countries and SOS Children's Villages International alone operates over 500 villages across the globe.
The installation of solar panels in the village has not only cut the electricity costs of the village by more than half but has also allowed the resident children to appreciate the necessity of going green by incorporating renewable sources of energy into their everyday lives. It is expected that using solar energy would reduce the carbon footprint of the village by 45 tons per year. These savings can be more or less guaranteed for the next 25 years with a very low maintenance cost. Thus, Alstom Foundation's contribution in the form of solar panels has freed up critical resources that are being redirected to support children's development.
Yaniv Yahav, the village director, is ecstatic about going green.  
"Today we have started down the road to transform our village into a green energy village. We will not stop here; our work is far from done. We would continue to strive for a greener world and would set an example for others to follow. Thanks to Alstom Foundation's contribution, the cost savings achieved would be used to buy clothes and private lessons and to facilitate access to emotional treatment for the children"
The company responsible for installing the panels on the rooftops has agreed to conduct workshops to teach the staff and older children of the village about green energy solutions and general maintenance of their solar panels.